Pandemic fatigue: Thanking health care workers and first responders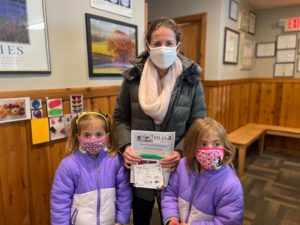 With more and more vaccinations for COVID-19 coming and infection rates going down, we're beginning to see the light at the end of a long tunnel. And we still need the vigilance to carry on with wise decisions and remain aware of the pandemic.
With all of that, it's been taxing, to say the least, on our well-being, and especially mental health. There have been days when the uncertainty and confusion of all of it became paralyzing, asking us to put every day activities on hold, some for the entire past year. There's even a name for it: Pandemic fatigue. We've all got it. And for those groups that have been fighting on the front lines for so long and are still not able to rest, we salute you. The health care workers, the first responders, the teachers…
And that's why Mental Health America of Putnam County, a local education and advocacy group, and United Way of Putnam County have teamed up in bringing notes of encouragement, a treat, and wise information to these groups on helping us endure these times which continue to challenge and tax us. One great booklet that is shared with these fine folks is a resource that anyone can access: Our COVID-19 Wellness Pocket Guide is packed with checklists for daily personal and family care, stress, coping, and journal ideas.
Other materials include our big poster on COVID-19 and your Mental Health. Coupled with sound advice on COVID and your mental health, these cornerstone pieces are designed to lessen this burden, identify area in need of attention, and recharge to get through this pandemic. We invite not only these frontline workers, but all of us, to use the resources we've curated for our mental health on our website at mhaopc.org/mentalhealthresources.
Join us in thanking these folks who have served so well for so long in this pandemic, keeping us all safe. And may THEY know how much they're appreciated and that we really want them to take time and care for themselves… We couldn't have gotten through this without you!