The backbone of our organization is our dedicated Board of Directors. Board members share their pool of experience and connections to our community and each brings a unique perspectives to our organization.
Current MHAoPC Board members are:
Christina Kerns, Co-President
Christina is a Behavioral Health and Life Skills Specialist with Cummins Behavioral Health. She is currently working towards a Masters of Social Work at Indiana State University and loves fundraising for MHAoPC. Her professional interests focus on mental health in the rural setting as well as participation in the Crisis Intervention Team (CIT) Training for law enforcement. Her advocacy for education, environmentalism, and service to others tie in beautifully with MHA's vision and goals.


Harriet Moore, Co-President
Harriet is an Assistant Professor of Music at DePauw University, specializing in harp and folk guitar. Holding Bachelor degrees in Psychology and Music and a Masters degree in Music, Harriet brings a breadth of knowledge and insight to the whole board and organization. Harriet serves as the Puppet Power committee chair and also coordinates our promotion of Crisis Text Line awareness program.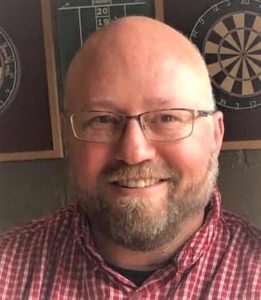 Chris Weeks, Vice President

Chris is the founder and head brewer of Wasser Brewing Company in Greencastle. He transitioned to being a business leader after teaching in diverse and challenging environments, including the Department of Corrections, urban schools, and residential treatment centers. He brings extensive business and educational expertise to MHAoPC.


Erin Flick, Secretary
Erin is a Licensed Addiction Therapist with Cummins Behavioral Health Systems in Putnam and Owen Counties. Her professional insight aids in our program focus and Erin has been a key in putting on our Don't Dodge the Issues Dodgeball Tournament. Erin lives in Clay County, Indiana.
Joanna Muncie
Joanna is currently the School Liaison at Deer Meadow Primary School.  She holds a Bachelor degree in Early Childhood and Elementary Education, a Masters degree in Elementary Education, and a Building Level Administrator licensure. Prior to being at Deer Meadow, she spent 20 years as a Kindergarten teacher at Ridpath Primary School.  Working with children she sees the struggles that they are faced with on a daily basis and is committed to their well-being.
Kim Salsman
Kim serves the northern geographic part of Putnam County, working as a Licensed Mental Health Specialist with Putnam County Hospital.  She recently moved back to Putnam County at the beginning of the COVID pandemic, being originally from here, and hopes to begin participating in other civic and volunteer activities soon.
Linda Schroeder
Linda is the Assistant Director at Old National Trail Special Services. She has taught at all grade and ability levels including students in special, general, and gifted education programs. She facilitates CPI Non-Violent Crisis Intervention Training for area school corporations, is a school safety officer, and serves on the State Advisory Council for Special Education.
Sonny Stoltz
Sonny serves our school system as Cloverdale's High School Principle.  He is Cloverdale School District's Safety Officer and serves on the Putnam County Safe School Commission.



MHAoPC Staff
Karen Martoglio is MHAoPC's Executive Director. Karen brings a history of community involvement and skills to our organization and has worked with many all-volunteer organizations including the League of Women Voters and Master Gardeners, as well as school involvement that comes along with being a parent of three children. She came to Greencastle from Wyoming in 2002 when her husband accepted a position at DePauw University, and her family has grown and set down roots here. She has a bachelor's degree in computer science and honed customer service, technical, and management skills in her previous work as a computer consultant and call center manager.
Volunteers
Sage Sherfick is a senior Bonner Scholar at DePauw University. She is passionate about mental health education and ending the stigma that goes along with mental illness. Sage is majoring in Psychology and hopefully will focus on child psychology. She is also a volunteer at Tzouanakis Intermediate School working with the guidance counselor and a fun class of 4th graders. At DePauw, she is a member of Delta Gamma, the Honor Scholar Program, and Vice President of External Affairs for DePauw Dance Marathon. 
Zaheen Rashed is a rising sophomore Lilly & Rector Scholar at DePauw University. She is currently a prospective Neuroscience major and Psychology minor on the Pre-Medicine track. After her undergraduate studies, she hopes to attend medical school and ultimately become a Psychiatrist. She is passionate about mental health and helping others, and her ultimate goals include treating those who struggle with health-related problems that may not be visible to the naked eye, but are just as valid as those that are. At DePauw, she is involved with Students of Color in STEM, Future Medical Professionals, Her Campus and The DePauw. She is also currently a Mental Health Peer Educator and Writing Center Tutor.
Mariam Lobjanidze is a junior Bonner Scholar at DePauw University. She is studying political science and psychology and is particularly interested in how to improve access to mental health services in rural communities. At DePauw, she is a first-year mentor and vice president of student academic life in DePauw Student Government. She has vast experience working at various organizations in Putnam County such as United Way, Edge 21, Rescued Treasures, Putnam County Public Library, and Ridpath Elementary School.  Besides being an MHAoPC intern, she is currently working at the Center of Diversity and Inclusion at DePauw University.  
Service Providers (Independent Contractors):
Beth Newton Watson, Teen Divorce Counselor
Amber Harpold, Instructor, Helping Children/Co-Parenting (HCCP) Adult class
Alison Creekmore-Long, Instructor, HCCP Children's class
Patti Harmless, Back-up Instructor, HCCP Children's class
Rachel Jern, Back-up Instructor, HCCP Adult class; HCCP Improvement Grant work contributor