MHA in the News
From letters to the editors, timely subjects, or announcements of our events, check out our public announcements below.
Join us for our fourth annual Don't Dodge the Issues Dodgeball Tournament!!
Mark your calendars for May 13th when fun and raising awareness are on the day's agenda!!  Gather your teams of at least six players to participate in a double elimination of dodgeball in the Lilly Center of DePauw University's campus here in Putnam County!  We've always had a ball with the action, but there will also be information booths, concessions and a fabulous Silent Auction.  Join us for a super fun Saturday!  Doors open at 11:30, teams need to be ready for a briefing at 12:30, Dodgeball action starts at 1:00 p.m.  Get registered through our office (phone 765-653-3310 or text 765-246-1003) or online at http://getmeregistered.com/ddidodgeball
Starting out 2023 with Regular spots on WREB radio
With their offices literally right next door to MHA's building, WREB, Greencastle and Putnam County's radio station with the largest listenership for our area, has graciously invited us to monthly interviews the fourth Thursday of every month.  We are thrilled with having a recurring opportunity to speak about timely mental health topics.  Check out our first two for 2023:
Karen and Alicia discuss setting areas to focus on (instead of resolutions) for 2023.
Karen and Jay's initial on-air session discuss:  Make it a priority to check in with your mental health.
Karen and Jay's second interview covering a wide variety of subjects, but mainly the Story of the Bell.
MHAoPC seeking award nominees – 2023!
Mental Health America of Putnam County is seeking award nominees for Person of the Year and Educator of the Year.
The Person of the Year award is granted to someone that shows dedication to improving the mental health and wellness of individuals and families in Putnam County.
The Educator of the Year award is granted to an educator that shows dedication to the mental health and wellness of children, families and fellow education professionals.
These nominations are due by the 28th of April via email at director@mhaopc.org. The awards will be presented at our Annual Meeting that also include a program and overview of mental health programs in our community.  Date and time is still forthcoming.
Exciting new service available – 988
With a new hotline, the efficiency of attending to mental health crisis have increased.
Since COVID-19, mental health has been a struggle for more and more people worldwide. In 2020, there was one death by suicide every 11 minutes. In addition, over 100,000 people have passed due to drug overdose from April 2020 to 2021.
With such increased numbers, there is an increased volume of calls to call centers, such as the suicide prevention hotline. The job of these hotlines is to have navigators – people who direct the callers – direct those that are in need to therapy services. However, the recent influx of callers has caused an overload to these hotlines. With this new hotline, that is set to change and prove for more efficient management.
View more on this article here.
MHA Annual Meeting – 2022
From great information about the new 988 national Suicide and Lifeline service, to People and Educator of the Year awards, our 2022 annual meeting was full of great information and celebration.  Check out the article and photos in the Banner Graphic:
https://www.bannergraphic.com/story/2953312.html
Heartfelt thanks: We Didn't Dodge the Issues! – 2022
MHAoPC would like to thank the community for the support of the "Don't Dodge the Issues" event. The event was held on April 30th – a great way to kick off May – Mental Health Awareness Month!
This event wouldn't have happened without the sponsors – Cummins Behavioral Health Systems, our Gold Sponsor, and Brackney Insurance, Tri-County Bank and Trust, The Hamilton Center and McDonald's Enterprises supporting at the Silver level. Prime Real Estate also sponsored two high school teams, and Papa John's donated pizzas.
This would've also not happened without the countless hours spent planning the event by the community – Erin Flick and Joanna Muncie coordinated so many facets of the event, the men at the Phi Gamma Delta (FiJi) fraternity in DePauw (led by Riley Reed), Christina Kerns for the Silent Auction and multiple other donations, Joel Bottom and his photography skills, Jerrod Baugh and his refereeing skills, Sal Martoglio, Hamza Cherqaoui, and the board members: Harriet Moore, Linda Schroeder, Kim Salsman and Emma Cash.
In this event, volunteers from Cummins, The Hamilton Center, and Putnam County Recovery Coalition were able to share helpful resources. Mental Health America was also able to share many eye-opening facts about mental health, and released the 2022 Mental Health Awareness Toolkit.
Congratulations to the winners:
#1 – Greencastle High School National Honor Society team "The Eric Wolfe Pack"
#2 – The Purple Cobras
#3 – Deer Meadow Prime (also sponsored by Prime Realty, representing Deer Meadow Primary School)
Don't Dodge the Issues – Dodgeball! — 2022
There was a recent hiatus because of the COVID-19 pandemic –  but it's back! The "Don't Dodge the Issues" dodgeball event returns on Saturday, April 30, at Deer Meadow Primary School, 1000 Deerfield Dr., Greencastle.
Information about mental health will be provided by mental health providers at the event. Anyone interested in signing up for the event should do so – at GetMeRegistered.com/ddidodgeballtournament.
To find out more about the event, call 653-3310, email info@mhaopc.org, visit the Facebook page at fb.me/mhaopcindiana and follow on Instagram at _mhaopc_.
MHAoPC thanks 5K run participants and volunteers – 2021
MHAoPC would like to thank the community for the support at the recent 5K run/walk, held on October 9th.
There's no better way to celebrate the mind-body connection and raise awareness for mental health! With perfect weather, there were both runners and walkers participated in this event. The path was the People Pathways Vandalia Trail, just adjacent to the Area 30 Career CEnter.
Thank you for participating in the event and a special thank you to volunteers that helped plan and lend a hand for the day of the run – volunteers help us provide quality programs in Putnam County.
For more information on MHAoPC, call 653-3310, email info@mhaopc.org, visit the Facebook page at fb.me/mhaopcindiana and follow on Instagram at _mhaopc_.
Join Us for Our Annual Meeting! – 2021
You are invited to join us for our Annual Meeting on May 10th, 7pm at the Roachdale Community Center, 204 N. Indiana St.
Join us for our Annual Meeting hosted by Mental Health America of Putnam County for a chance to reflect upon our year and thank those who have made a difference in Putnam County. Awards will be presented for Person of the Year and Educator of the Year, for those who have made an impact in our community.
Dr. Nancy Holsapple, Indiana State Director of Special Education, will be our speaker, sharing the good things going on at the IDOE in regards to SEL (social-emotional learning) and mental health for students and teachers.
Pandemic fatigue: Thanking health care workers and first responders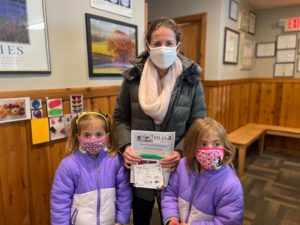 With more and more vaccinations for COVID-19 coming and infection rates going down, we're beginning to see the light at the end of a long tunnel. And we still need the vigilance to carry on with wise decisions and remain aware of the pandemic.
With all of that, it's been taxing, to say the least, on our well-being, and especially mental health. There have been days when the uncertainty and confusion of all of it became paralyzing, asking us to put every day activities on hold, some for the entire past year. There's even a name for it: Pandemic fatigue. We've all got it. And for those groups that have been fighting on the front lines for so long and are still not able to rest, we salute you. The health care workers, the first responders, the teachers… Read more at Pandemic fatigue: Thanking health care workers and first responders.
Community Conversation with Greencastle Presbyterian Church
Karen Martoglio, Director of Mental Health America of Putnam County joins Presbyterian Church to talk about mental health, the impact we're seeing her in our community, and depression awareness month. Many of us know or have experienced the reality of mental health issues, and one of the best things we can do for ourselves and others is be informed and reach out!
Listen to their conversation below!
Got Resilience?
Life is a journey that does not come with a roadmap to allow individuals to plan and prepare for its twists and turns. Everyone experiences the curves of life from everyday challenges to events in life that cause more lasting effects. Each life experience impacts individuals differently regarding feelings, thoughts, and reactions. Resilience assists individuals in adapting to life changes over time .
The American Psychological Association defines resilience as "The process of adapting well in the face of adversity, trauma, tragedy, threats, or significant sources of stress—such as family and relationship problems, serious health problems, or workplace and financial stressors" (APA 2012). Read more at Got Resilience?